■

First up, FoIB Notorious MWR tips us to a very interesting new-baby technique:
"

Courtney Buss, like many first-time mothers, wanted all the white, goopy film washed off her baby immediately after delivery.
Three years later, Buss said she knows better

."
Turns out, that "goop" is actually "

vernix caseosa

," and it's now believed that it helps new-borns fight infections.

Nice!



■

Next, Dean Clancy provides a stunning visualization of just how far off CBO estimates tend to be: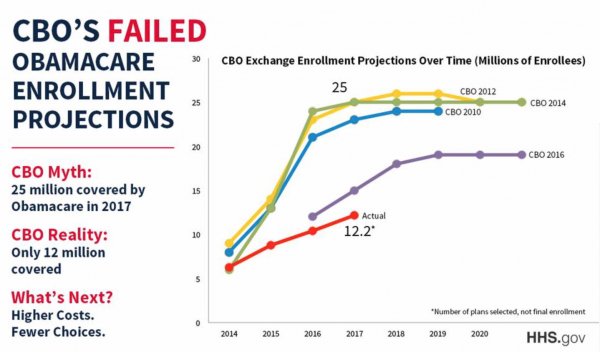 ■

And finally, FoIB Holly R alerts us to a related problem; namely, the increasing number of folks who've actually dropped their ObamaPlans:

"

The number of Americans insured under Obamacare fell by nearly 2 million people between Jan. 31 and mid-March

"

Let's do a little math, shall we?

1) January to March is 3 months (okay, 2
½
, but here that's a distinction without a difference)

B) Open Enrollment ObamaPlans become effective January 1.

III) On-Exchange plans have 3 month Grace Periods.

So it's actually quite easy to see what's happened: 2 million or so folks bought ObamaPlans with January 1 effective dates, didn't pay for them (but may well have used them), then ran out the clock.

Easy-peasey.